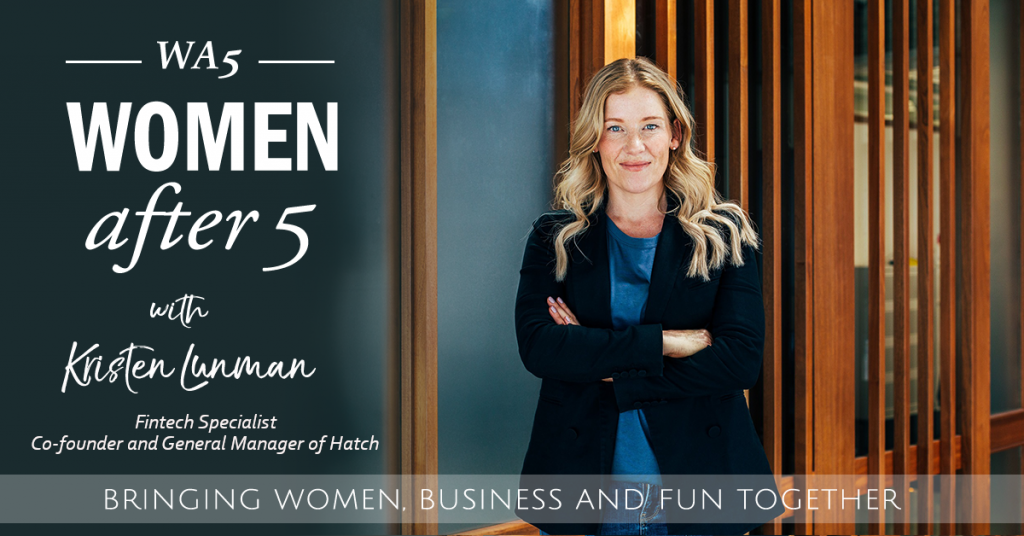 When: 5.30pm – 7pm, Thursday 29 July 2021
Where: The Burrow at The Treasury, 98 Victoria Avenue, Whanganui
---
This month we are excited to present Kristen Lunman – Fintech Specialist and Co-founder and General Manager of Hatch, Kiwi Wealth's digital investment platform.
Working as a senior leader for several years both here and overseas, Kristen has made a name for herself in New Zealand's start-up ecosystem.
As Co-founder and GM of Hatch, Kristen challenged the status quo by opening up the US share markets to all New Zealanders with a modern investing platform.  She's a firm believer that technology should simplify our financial lives and help us be better with our money.  With Hatch, every Kiwi has the same access to the tools, knowledge, and opportunities to take control of their wealth.
A bit about Kristen:
In 2018 Kristen was nominated as one of New Zealand's Women of Influence Innovator of the Year award.
She has over a decade of experience running product teams across North America.
Kristen has played a pivotal role in the start-up ecosystem in New Zealand over the past five years.
She was the innovation director at Kiwi Wealth, Hatch's parent company, as well as programme director for the Kiwibank Fintech Accelerator.
She also was the chief operating officer of Wipster, a video collaboration, publishing and analytics platform.
An active mentor, Kristen is passionate about women in leadership, governance, and founder roles.
When she's not busy raising children, surfing and disrupting, you'll find Kristen volunteering her time to mentor the next generation of entrepreneurs.
Kristen will share with us the three lessons she learned as a leader through a pandemic:
1. Curious leadership and how empathy can be a superpower
2. Personalised flexibility and the dynamic workplace
3. The importance of financial empowerment
After experiencing significant business growth during the pandemic, Kristen will share some key lessons learned to build resilience in ourselves and our teams, lessons to survive uncertainty, including moving to a remote-first mindset, adapting cultural values and key business insights.
Finger food and refreshments provided. We look forward to seeing you there!
Cost: $20 +GST for members and $30 +GST for non-members – non-refundable upon less than 24hr cancellation.
Please note: Bookings are essential and close 4pm 28 July 2021.
---
If you book this event and then find you are unable to attend, it is essential you let us know 24 hours in advance.
The Chamber can longer cover the cost of non-attendance; therefore, tickets are non-refundable outside of this timeframe.  To cancel your booking, please email Glen.