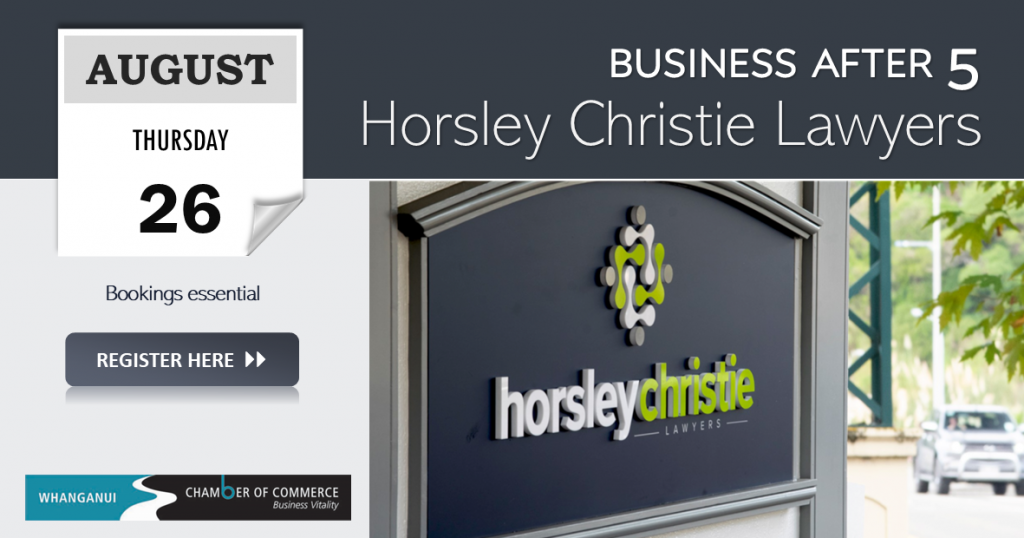 Chamber members and their guests are invited to join the team at Horsley Christie for a drink and finger food, to hear a little more about the firm and what an ordinary day as a modern lawyer looks like.
As preferred lawyers for the Whanganui region, their legal expertise covers business/commercial law, property, employment, litigation/dispute resolution, and family and asset protection – including trusts, wills and estates.
Horsley Christie are one of Whanganui's oldest law firms, having been established in 1911 by Gilbert Horsley and Hector Christie, and have recently become Key Regional Partner Whanganui Chamber of Commerce.
They have four experienced partners and two senior associates, along with an energetic mix of up and coming Solicitors, Legal Executives and support staff.  Since the firms establishment, Whanganui has gained recognition as a vibrant growing provincial centre, and during these years, Horsley Christie have been at the forefront of helping businesses and individuals to achieve their objectives.
At Horsley Christie they strive to provide outstanding service to their clients, using new technology to maximise efficiency.  The Horsley Christie team is adaptable to the changing legal environment and the needs of its clients, and they look forward to what the next 100 years have in store!
Don't miss this opportunity to meet the Horsley Christie team and find out what makes them lawyers of preference for our region.