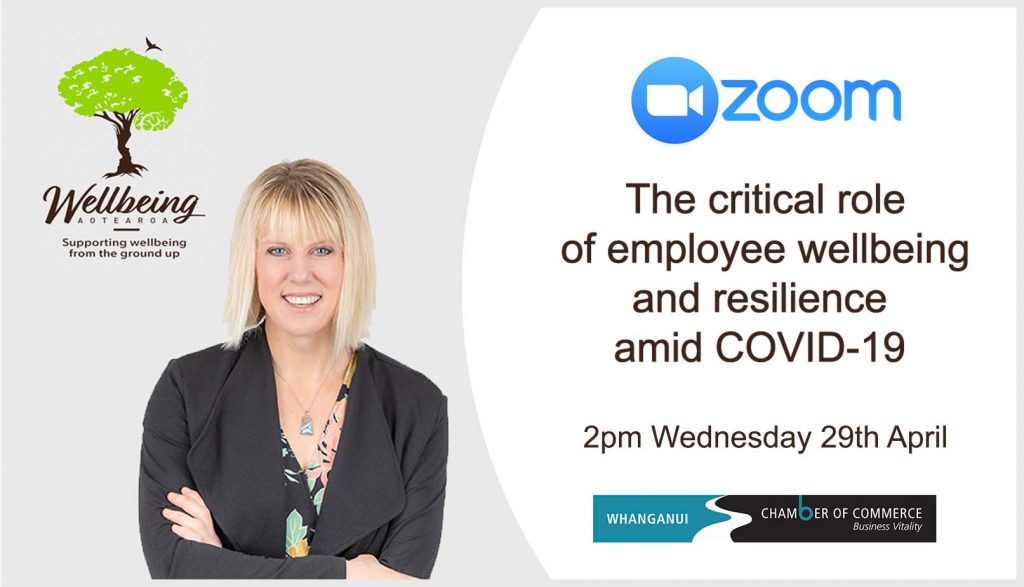 Future Proofing your Organisation: The critical role of Employee Wellbeing and Resilience amid COVID-19.
The Whanganui Chamber of Commerce in partnership with Whanganui & Partners are pleased to bring you this session with Dr Kristen Hamling, Psychologist.
Strong leadership and a culture of whanaungatanga are likely contributing factors in New Zealand's successful fight against COVID-19 so far. However, our efforts to stop COVID-19 come at a cost. The mental and physical strain related to the COVID-19 lockdown will affect many New Zealand industries and workers for years to come.
Unprecedented challenges lie ahead for New Zealand employers. New Zealand industry needs strong leadership to prepare kiwis for what comes next. A resilient and united workforce will be best placed to not only overcome the challenges that lie ahead, but innovate new ways forward. By investing in employee wellbeing, New Zealand employers can future proof their organisation and in doing so support the mana of many kiwis.
In this webinar, Dr Kristen Hamling (Psychologist, Wellbeing Aotearoa) and Sue Stuart (CEO, Whanganui Chamber of Commerce) team up to offer employers practical ways to bolster employee wellbeing and resilience. Kristen will first explain why COVID-19 may generate a trauma response in some workers, compromising their productivity, problem-solving, creativity, and so forth. Kristen and Sue will discuss ways to protect employee wellbeing and increase their resilience following Stanford University's design thinking process.
By engaging the audience with Mentimeter, Kristen and Sue aim to collaboratively identify ways to build energy and enthusiasm in your workforce. Details of the webinar and how to access Mentimeter will be provided upon registration.
Kristen Hamling bio:
Dr Kristen Hamling (PhD) is a registered psychologist with twenty years experience. Kristen has worked as a trauma psychologist for over fifteen years with civilian, military and emergency service populations. She was a uniformed Army Reserve psychologist and a civilian Australian Defence Force Psychologist. Kristen's PhD research investigated how first responders maintained their wellbeing amidst the complexities of emergency service work. Kristen draws on her experience as both a trauma and positive psychologist to support people and organisations who have been exposed to trauma. She also works with organisations to strengthen employee wellbeing and resilience. Kristen is a board member of a peer support and advocacy group and she also operates a small private practice.