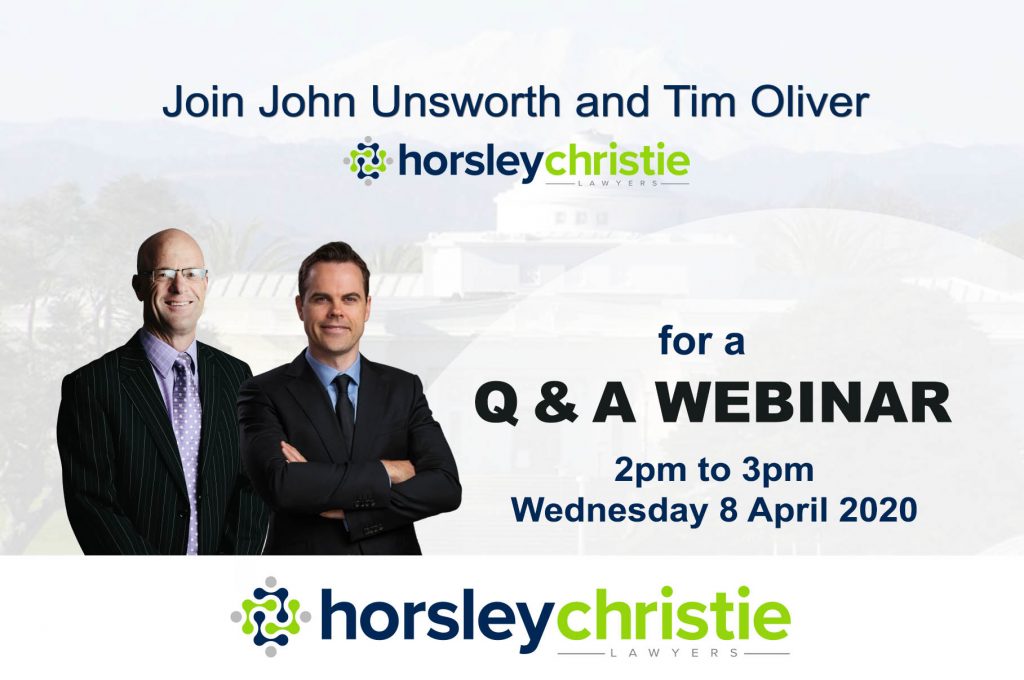 Join John Unsworth and Tim Oliver from Horsley Christie Lawyers for an interactive Q & A webinar to discuss the legal aspects for employers of HR and Employment plus Property and Commercial Law, relating to COVID-19.
John Unsworth, a partner in Horsley Christie Lawyers, has been a lawyer for more than 35 years and has extensive experience in a wide range of legal practice areas. He specialises in employment, civil, Maori-land, medico-legal and commercial litigation.
John is a former Vice President of the New Zealand Law Society (NZLS) and President of the Whanganui Branch of the NZLS.
Tim Oliver is the newest member of the team at Horsley Christie, having recently moved from Auckland. Tim specialises in commercial, property, and employment law. He has particular expertise with all legal aspects of the acquisition and disposal of significant business assets and regularly advises commercial landlords and property developers.
We encourage you to email your questions prior to the webinar. This will help to ensure a wide range of questions can be covered. Questions can also be asked during the session.
Registrations for this zoom session are essential.
The Zoom link will be sent after you have registered your attendance.