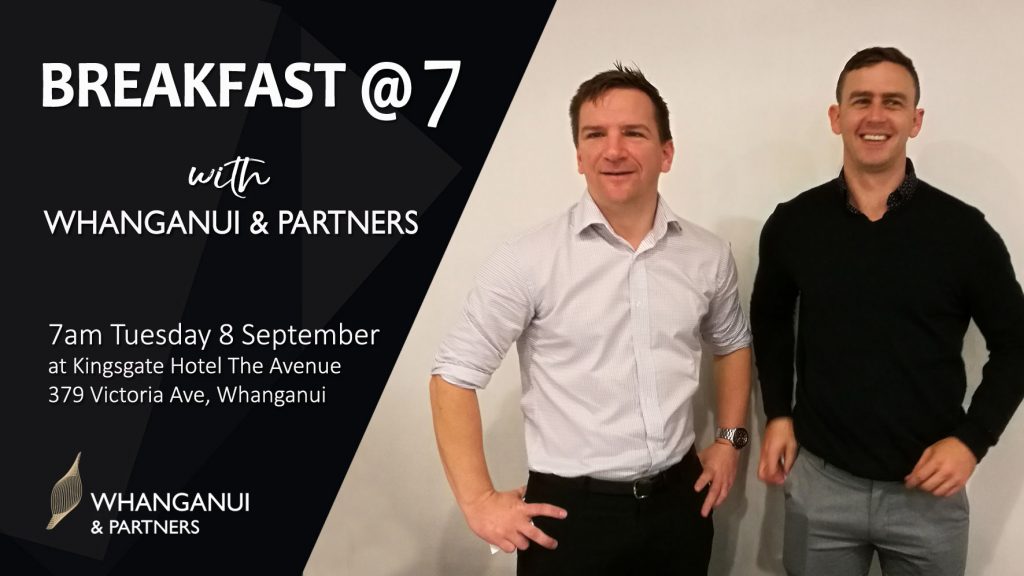 Join us for Breakfast @ 7 on Tuesday 8 September and talk with Tim and Simon from Whanganui & Partners about the Regional Business Partners (RBP) programme.
The RBP continues to provide direct support and advice to local small businesses to help with responding to COVID-19. The first round of funding saw over $120,000 worth of support provided, and to date over $50,000 has been allocated during this second round. There's a range of free support available through accredited service providers, the most common areas are as follows.
Business Planning – helping businesses plan for the ongoing impact of COVID-19, manage the post lockdown spike in demand, or shift their focus to reduce risk.
Digital Enablement – help businesses determine what online presence they need, how to improve what they've got, or how they can work smarter online.
Marketing – support businesses to take advantage of the post lockdown surge, prepare them to hunt out more/better customers, or help them shift into new markets. It can also help you design and shape your brand identity.
Other areas include Employee Relations and HR Legal Advice, Financial and Cashflow Management and Health and Wellness Support.
Businesses across New Zealand are accessing this free support, and Tim and Simon are keen to get as many Whanganui business involved as possible. There are a range of local, regional and national providers who can fit your unique business.
The first step to accessing this support is to register here at Regional Business Partners.
Come along and talk with Tim and Simon and have your questions around RBP support answered.  This breakfast is in partnership with Whanganui & Partners who have subsidised the cost for all attendees.
SPECIAL PRICE  $15 +GST.  BOOKINGS ARE ESSENTIAL.
Please make your breakfast booking before 4pm Monday 6 September. 
Please note there have been issues when booking via Explorer. Chrome is recommended.